Sports Betting In Louisiana
After becoming legal officially following the November 2020 elections, sports betting launched in Louisiana with retail operations going live in October 2021 and mobile following a few months later in January 2022. Now there are several options for Louisiana sports betting for residents and tourists alike. Additionally, online sportsbooks remain available to all Louisiana residents and can be accessed all across the state. Due to Louisiana's regulations, mobile sportsbooks can only operate in the 55 parishes that voted in favor of betting. These sportsbooks are restricted in the other parishes. This page will hopefully answer all the questions one may need to know about sports betting in Louisiana. This site also aims to provide the best options for legal Louisiana sports betting.
Does Louisiana Have Legal Land-Based Sports Gambling?
Yes, Louisiana does indeed host land-based sportsbooks. These operations went live in October 2021 and there are currently locations in Baton Rouge, Bossier City, Harvey, Kenner, Kinder, Lake Charles, Marksville, and Vinton. Most sportsbooks are tied to casino hotels so tourists a lot of the action comes in from tourism. Louisiana retail sportsbooks are backed by big-name sports betting operations like Caesars Sportsbook and BetMGM, allowing for some of the best in class options for betting on sports in Louisiana.
Is Online Sports Betting Legal In Louisiana?
Yes, mobile and online sports betting is indeed legal in Louisiana. The Pelican State's regulations allow for up to 20 sportsbook licenses to be issued so as time progresses, Louisiana residents will only see the options grow. Operations like DraftKings, Caesars Sportsbook, FanDuel, BetMGM, Betfred, and WynnBet all have betting licenses and can operate in Louisiana. In addition, online sportsbooks that are regulated outside the US are also available in Louisiana.
Which Sports Betting Site Accept Louisiana Residents?
As mentioned above, Louisiana residents are welcome to most if not all sports gambling websites. This means there are options, ones that may overwhelm new sports bettors if they don't know what to look for in a gambling website. To begin with, any site you choose needs to have a solid reputation for being reliable, safe, and trustworthy. How do you find that out? You can look at reviews and various features, such as whether or not a site has 24/7 player support, perks and bonuses, a wide variety of games, and an easy to use betting platform. We recommend you research any site you choose before making a deposit and betting. Stick with our recommended online offshore sportsbooks and you will be making money in no time.
Facts About Legal Online Sports Betting In Louisiana
More bets come in from New Orleans than the rest of the state combined.
There can only be 20 land-based sportsbooks by law.
Each land-based location can partner with two online sportsbooks.
Bank Transfers are the most common deposit methods in Louisiana.
Bovada Sportsbook - The Best Place To Bet On The Saints In Louisiana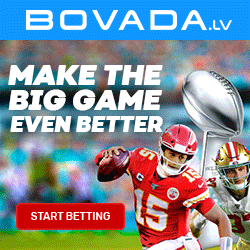 In one of the most colorful and lively states on the map, it is no surprise that Louisiana loves betting on sports at Bovada. Proof of the love that Louisiana shows this site can be found in the fact that the state is now inside the top-8 most popular states for betting with this online sportsbook. From Shreveport, down to New Orleans there is no place on-land with legal sports betting opportunities which is surely a contributing factor to Bovada's success.
The amount of money you can make by simply taking advantage of Bovada's new player deposit bonus is enough to make anyone stand up and shout, 'Who dat!' when they get excited about the $250 maximum bonus; 50% match. Want to learn more? Bovada is standing by with an extensive help section as well as a thorough FAQ. If you need more help, Bovada has unparalleled customer service available through email, phone and via a contact form found on their website...we love that strong Cajun accent found in the bayou but those users might want to opt for written correspondence.
SportsBetting's Sportsbook - Life Time Bonus Of 25% UpTo $1,000 On Every Deposit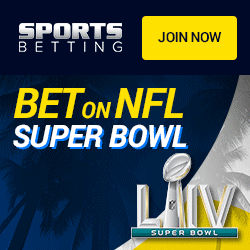 Louisiana residents may have doubts about the legality of sports betting in their state but as long as they put their trust in a reputable site like SportsBetting they actually have nothing to worry about. This online bookmaker has been accepting wagers from Louisiana for the last 10 years and it's a safe bet that they will still be around 10 years from now. Simply put, sports betting sites that don't offer bettors a safe reliable betting environment do not experience the success + longevity that SportsBetting brings to the table.
Need more reasons to join SportsBetting? Well, try on their lifetime reload bonus which is an extraordinary offer for the user that is always wagering or thinking about their next bet. Whenever a user adds funds into their personal betting account this sportsbook will add an additional 25% on top of the amount of the deposit. Of course, SportsBetting can't give away the house with this promotion which is why they have installed a $1,000 hard cap on this promotion which is still very hefty. Just use the promo code FORLIFE at the cashier to receive this bonus.
BetOnline Sportsbook - One Of The Best Louisiana Sports Betting Sites
When it comes to sports betting in Louisiana, BetOnline puts the easy in the Big Easy. Whether on the lively streets of Nawlins or in the shadows of Death Valley in Baton Rouge, this sports betting site makes it quick and simple to bet on your favorite teams. Though sign up only takes about 2 minutes to complete from start to finish, feel free to browse their website and even their current betting lines for free. This access will allow Louisiana residents to see for themselves that BetOnline lacks nothing.
Some of the things that users often note about this website is that it's easy to use from using their interactive betting slip, down to navigating through the various sports available for wagering that day on the left hand side of the screen. Another feature that visitors rave about is the articles section that gives the latest sports + sports betting news which includes current hot and cold betting trends. One of the most important parts of BetOnline is their smorgasbord of over 10 different funding options for Louisiana residents to choose from including Visa, MasterCard, and American Express.
Top Louisiana Sports Betting Sites
Rank
Online Sportsbooks
Bonuses Offered
Rating
US Players?
Play Now!





Other Types Of Gambling Available In Louisiana
Louisiana is a robust gambling state packed full of commercial casinos, riverboats, and even tribal (Native American) gambling centers. Residents may be familiar with Treasure Chest Casino, Cypress Bayou, Boomtown, Eldorado, and the Harrah's chain casinos spread throughout the state. There are more than 20 of them, actually, and they are always being updated to draw in more gamblers.
Thanks to all of these casinos, it is likely that Louisiana will be one of the highest-grossing legal sports betting states in the near future. Since there will be both land-based and online in-state options, the state will be able to maximize the profits of the industry. For now, you will have to just stick to online offshore sportsbooks to make your bets.

Does Louisiana Allow Pari-Mutuel Betting?
Louisiana is a popular state for thoroughbred horse racing. Many of these tracks are actually considered "racinos," or racetrack casinos that allow visitors to play certain table games and electronic gambling machines like slots and video poker. The more popular tracks include Delta Downs in Vinton, Louisiana Downs, and the Evangeline Downs in Lafayette. Betting on the ponies is extremely popular in Louisiana. If you want to bet on the races but you do not want to leave the comfort of your own home, online offshore sportsbooks have racebooks on races all over the world. You can easily bet on races from any other state or any other country at these sportsbooks.
How Old Do I Have To Be To Bet Sports Online In Louisiana?
To bet on sports online in Louisiana, residents must be 21. When you first log into a sportsbook, you'll see that their age requirement is usually only 18, but when they ask for documents that verify your identity, they'll enforce your state's age laws. In order to avoid having your account permanently banned and you losing all your winnings, we suggest residents wait until they reach the age of 21 before they begin sports betting in Louisiana. That will make sure you are abiding by local gambling laws.
What Teams Can I Bet On In Louisiana?
Sports betting in Louisiana can be done on college sports, professional sports, and even European events if you prefer. We'll list the most popular teams you can bet on in Louisiana here, to give a very small look at the teams you can wager on. The best online sportsbooks can offer you lines on hundreds of different events at any time of the day, any day of the week.
College:
Louisiana at Monroe Indians
Louisiana State Tigers
Northwestern State Demons
Tulane Green Wave
Professional:
New Orleans Saints (NFL)
New Orleans Pelicans (NBA)
High Roller Sports Betting Sites
The best high roller sports betting sites will have several things in common. First, you'll want a sportsbook that offers several deposit methods that have either very high limits or no limits whatsoever. This allows you to fund your account with as much money as you'd like in order to place the wagers you want. Second, you'll want to look for sites with high wager limits or adjustable wager limits. While their initial limit might seem less than thrilling, you can rest easy knowing that just by contacting the book, you'll be able to place the wagers you want, when you want to.
The second best thing to an adjustable wager limit is a site which allows you to place and replace an amount of money on the same line. Generally, you'll have to wait a few seconds between the bets, but it's basically the same thing as having no limit. The best high roller sports betting sites for sports betting in New Mexico can all be found on this page. The sites we suggest either have adjustable wager limits or allow you to place a bet as many times as you'd like. Either way, you won't be disappointed with these online sportsbooks.
Is Bitcoin Safe To Use For Sports Betting?
Bitcoin is one of the safest ways for residents to fund their sportsbook accounts. When sports betting in Louisiana, whether you're casually wagering on today's baseball game or you're a high roller looking to make huge profits, you'll need a quick, reliable deposit method that will allow you to deposit as much as you want when you want it. That method is, without a doubt, Bitcoin.
Bitcoin is an autonomous digital currency that is not associated with any central financial institution. When you use Bitcoins to fund your account, they are pulled from your Bitcoin wallet, which means you won't have to put any financial information on the book itself. Instead, all you'll need is your name and your Bitcoin wallet address. As its own currency, it ensures users safety through several of the top security measures available for online transactions, like SSL encryption technology. There is nothing safer than using Bitcoin for sports betting in Louisiana. There are even bonuses available for you to get even more money while you use Bitcoin!